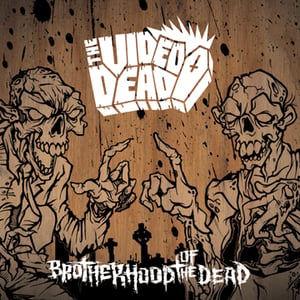 $

8.00 - On Sale
THE AWARD WINNING DEBUT ALBUM!
For Fans Of: Kid Dynamite / Bouncing Souls
Signed to Stereo Dynamite Recordings at a rather challenging point in their career (no van, drummer troubles, too many party invites / not enough time..) Burlington Ontario's THE VIDEO DEAD still managed to keep it together long enough to release the award winning hardcore album "BROTHERHOOD OF THE DEAD".
(The album won the 2006/2007 "Best Metal Album Of The Year" at the Hamilton Music Awards.)
The band would later go on-and-off hiatus several times with 3/5 of the members forming THE SAINT ALVIA CARTEL and putting the majority of their time into that band.
Believe us when we tell you that "LIKE THE COVER OF DAMAGED" is the best hardcore punk song that you've never heard!
TRACKLISTING:
1.) Cover Me I'm Going In
2.) Like The Cover Of Damaged
3.) Suckubus
4.) The Bretherin
5.) I Love It When A Plan Comes Together
6.) Little Fish In A Big Pond
7.) Gooz Frabba
8.) The Legend Of Billy Tipton
9.) Rad, Like Tony Alva Rad
10.) Jesussavesdotcom
11.) This Friendship Flag Is At Half Mast
12.) Breed The New Anthem
http://www.myspace.com/thevideodead