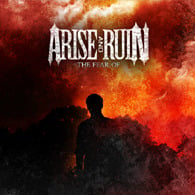 $

2.00 - On Sale
THE DEBUT CD/EP.
NOW SIGNED TO VICTORY RECORDS.
Discovered by Stereo Dynamite Recordings back when the only people who knew about them were their parents and their pissed-off neighbors, Guelph Ontario's ARISE AND RUIN have gone on to international exposure through their recording deal with Victory Records.
The band's debut CD/EP "THE FEAR OF" is where all the raging heaviosity started. Produced by Unearth's Ken Susi, the CD/EP showcases all of the band's strengths, and is a must-have for all fans of thrashing mad American metalcore.
TRACKLISTING:
1.) Always The Same
2.) Night Shifts
3.) Prologue
4.) In Life
5.) Rex Butcher
+ The Videos:
1.) In Life (Music Video)
2.) In LIfe (Live)
3.) Rex Butcher (Live)