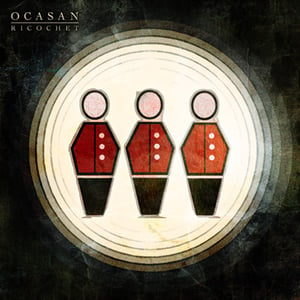 $

12.00 - On Sale
ORDER your AUTOGRAPHED copy of the debut Ocasan album 'Ricochet' now - quantities are LIMITED!
Stereo Dynamite Recordings are pleased to announce the signing of Northampton, UK's finest three-piece rock/pop band Ocasan.
The band have crafted an incredible debut album with the 10 track 'Ricochet'. Produced by Romesh Dodangoda (Manic Street Preachers, Lostprophets, Bullet For My Valentine, Attack Attack), the album showcases the band's ability to marry a quintessentially British sound with the ferocity of American rock. The songs shift musical gears effortlessly, and recall the best songwriting of Blur, Supergrass, and The Manics, all the while maintaining the drive and power of the Foo Fighters; clearly demonstrating a truly unique talent.
"They set out to write fantastic songs that had you hooked from the first beat to the last chord and we think they've done just that!"
- KERRANG!
"Ocasan write insanely catchy pop/rock songs and are an exceptional live band to boot. Go and watch them and find out for yourself"
- ROCKSOUND
"We wanted the world to pay attention to this one. The first album, we all agreed, had to be big, loud, well crafted and really in-your-face! We completed what we set out to do and are very proud of it." says bassist Rich Webb. "We poured our souls into this first album. It's a huge sounding record bursting with energy." continues drummer Luke Mcdonnell (who along with singer/guitarist Nick Burns complete the band line-up).
The album's first video "No One's Safe In Soho" is currently available online: http://youtu.be/VTRHSmLZcuo
'Ricochet' Track Listing:
1. No One's Safe In Soho
2. Super Mario
3. Ricochet
4. Josephine
5. Drama Queen
6. Phasers Aren't Set To Stun
7. Mr. Moneybags
8. Lighters In The Air
9. Not All Heroes Wear Capes
10. When You're Around
http://www.Ocasan.co.uk
http://www.facebook.com/OcasanMusic