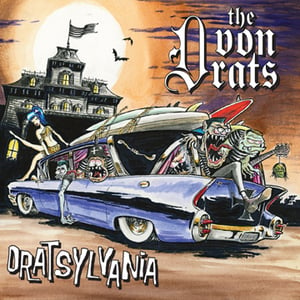 $

8.00 - On Sale
Stereo Dynamite Recordings are pleased to announce the signing of surfing crypt keepers: The von Drats. A band so terrifyingly groovy, one listen to their debut album "Dratsylvania" and you'll be trapped forever under their sonic spell!
Originally hailing from the mysterious Dratsylvania, the band relocated to Toronto in 2005 where their strange appearances (looking like extras from The Addams Family or a cartoon hot rod gang) and creepy, rowdy and kooky high energy surf punk live shows have made them a favorite with the local late, late, LATE(!) night ghastly Go-Go crowd.
Featuring 13 twangy and twisted tunes that should appeal to fans of 60's surf rock, horror punk, or classic monster movies. "Dratsylvania" is the soundtrack to the greatest, grooviest, demons-on-dirtbikes film you've never seen.
Tracklisting:
1.) Dratsylvania
2.) Phantom Chop
3.) Theme For Woo Key Tsao
4.) Strachan Steve
5.) Torso Alley
6.) Zip Code
7.) Instant Soup... Just Add Soup
8.) Catch Fire
9.) Cemetary Stomp
10.) Tube City
11.) Los Tigres del Norte(s)
12.) Manglers And Stranglers
13.) Return To Dratsylvania
www.myspace.com/vondrats